Cleanse
Suave Naturals Shampoo or Suave Professionals (Almond + Shea Butter) – Suave Naturals shampoo is a great quality cleanser and is comparable to most salon brands. Suave Naturals shampoo runs somewhere around the $4.99 range at Target.
Apple Cider Vinegar – Apple Cider Vinegar is around $3 at most local grocery stores. Many naturals clarify their hair with diluted apple cider vinegar which also balances the pH level of hair.

Inexpensive "Watery" conditioner – If you don't have very much product buildup or dirt in your hair a conditioner-wash should be able to semi-cleanse your hair until you are able to use the cleanser of your choice.

You can try out the Oyin Handmade Snack Pack if you want to test out new hair products but don't want to spend a ton of money. Click the picture to see my First Impression of the Oyin Handmade Snack Pack!
Conditioners
VO5 conditioners – Vo5 conditioners are usually $1.99 or less at most pharmacies. They are typically not all natural or organic but they are cheap, which means that as a natural whose hair loves moisture, you can use as much conditioner as you'd like because of its low price.
Suave Conditioners – Suave Naturals Coconut Conditioner is one of the BEST inexpensive conditioners for detangling; it provides great slip and has a pleasant coconut scent.
Herbal Essences Conditioner -Every one of their fragrances smell wonderful and feminine, but they may be overwhelming for some. These conditioners are typically creamy and provide slip for detangling curly hair.
Aussie Moist Conditioner – The Aussie Moist conditioners come in huge bottles and are a great bang for your buck. The big bottle of Aussie Moist conditioner comes with a pump that makes it very easy to co-wash your hair in the shower. I love this conditioner for it's easy to use pump that allows me to quickly co-wash after a shower.
Garnier Fructis Conditioner – Garnier Fructis' original conditioner is very creamy and has a nice scent. This conditioner also has a great leave in conditioner, that is inexpensive and can be found at most drugstores.

Homemade Conditioner –  Some naturals make their own conditioner with food items they already have at home. This helps to save money and is a healthy natural alternative to the manufactured conditioners found on store shelves. You can make your own conditioner with vegetable and fruit purees (baby food) honey, avocados, and various oils.
Moisturizers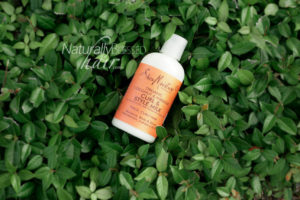 DIY Whipped Shea Butter – To save money, a whipped shea butter mixture can be made to satisfy your needs. Shea Butter mixes are fine to use on your natural hair and skin. You can find Shea Butter and other ingredients to make whipped shea butter for $5 or less at your local BSS.
Shea Moisture Curl and Style Milk is one of my favorite moisturizers and curl refreshers. This product can usually be found for $11.99 or $9.99 at Walgreens or Target and even at your local Beauty Supply Store – they are also sold as sample sizes on Sheamoisture.com
Shea Moisture's Curl Enhancing Smoothie – For some, the curl enhancing smoothie does enhance curls, but for most, it is a great water based moisturizer and curl refresher. This Shea Moisture product is around the $9.99 range and can be found at Walgreens, Target, and on Amazon.com and on Sheamoisture.com.

Coconut Oil – Coconut oil penetrates hair strands and can be used as a moisturizer. Using more than you need can go awry by making your hair overly oily/greasy.

If you're on an extremely tight budget, try your local dollar stores for affordable moisturizers. Dollar General, for example, is starting to carry many curly hair product lines.
Sealants
Olive Oil – Olive oil is a multipurpose product that can be used in cooking, on your hair, and even on your skin and nails. A little goes a long way so a big jar should last a long time.
Coconut oil is also a multipurpose product that can be used in cooking and on your body. As a sealant, apply a small amount after you've moisturized your hair.
Shea Butter is commonly used as a moisturizer, but without any additives, is best used as a sealant because of its oiliness and overall thickness.
Click the picture to learn how to Moisturize and Seal your Natural Hair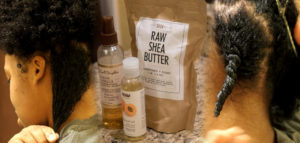 Tools
Wide Toothed Combs – A wide tooth comb can be found at the Dollar Store for $1
Denman Brushes – These amazing detangling brushes made by the Denman company can be found at reasonable prices on amazon.com. If you're on an extremely tight budget search for Denman brush knock-offs or dupes online – these will be much cheaper than the actual Denman brand brush.
Seamless Hair Bands – Seamless hair bands can be found at Walgreen's at the regular price of $2.99
Hair Accessories – A variety of hair accessories can be found at most dollar stores for $1 or less.
Stylers
Eco Styler Gel is the most effective cheap gel for natural hair! It is very affordable and can be found at Sally's, Wal-Mart, and online.
5 Money Saving Tips:
1.Sign up for your favorite brands' online newsletters to be alerted of sales, coupons, discounts, and freebies.
2. Participate in or coordinate a local 'product swap' where you can get rid of products you don't like and get products you do like.
3. Buy Sample sizes of products you've never tried, so if you don't like them you won't be at a huge loss.
4. Return products you don't like or plan and plan on never using again.
5. Invest in multipurpose products and tools for your hair to get the most bang for your buck. For example, Olive Oil and Coconut Oil can be used in your hair and on your skin. The Curl and style milk from Shea Moisture can be used as a leave-in conditioner and a moisturizer. Eco Styler gel is great for wash and go's and holding set styles.

Editor in Chief
at
Naturally Blessed Hair
Living my life Naturally, Knowing I'm Blessed, and Loving my Hair is the phrase that pretty much sums me up. My name is Andrena and I'm a lover of all things natural hair - the styles, the maintenance, and the beauty. Check out
My Hair Journey Here. Stay in touch and keep up with me and my hair @NaturallyBlessedHair.