Busy moms of the world, you know that taking a half hour on any hairstyle is a great luxury for most of us; therefore, we need an everyday natural hairstyle that is quick and cute. So, here's a quick and easy hairstyle that can be done while baby-wearing 😉
This style can be done on wet or dry hair; but, I usually do it on freshly washed or wet hair so that the style can set more neatly and so that I can have a braid out at the end of this particular style if needed. This style can last for up to 1 week with daily moisturizing and tying your hair down with a silk scarf nightly. For daily maintenance, I spray Carol's Daughter Vanilla leave in on the braids and then tie my hair down with a scarf.
Here are five (5) Easy steps for you to achieve this Natural Hairstyle
         Here's What You'll Need:
Spray bottle with water/leave in mixture
Moisturizer

Natural oil to seal in the moisture

Scarf
1. For optimal results start with freshly washed hair. If hair is dry, begin by dampening hair with water. Add your favorite moisturizer and seal in the moisturizer with an oil. For more information on moisturizing Natural hair, see the article How to Moisturize and Seal Natural Hair.

2. Create a 2-3 inch part in the front of your hair, either in the middle or the side. Don't worry about parting your hair all the way down to the nape of your neck. When you start braiding one half of your hair you'll section that half away from the other – this adds to the easiness of the style. Many of us mothers have learned the hard way that everything doesn't have to be perfect; remember, the "effortless look" is In.
3. Detangle each section of hair. Optional Step: Smooth the edges of your hair down with styling gel, preferably Eco Styler gel. If you're going for the effortless look, definitely skip this step.
4. Gather your hair at the beginning of your part and separate your hair in half at that part. After you've separated your hair in halves, braid/french braid or flat twist each half of hair.
5. For short hair: Gather the ends of each braid, twist them together, and use a hair pin to tuck away the end.
For long hair: Pull the end of each braid toward the other as far as each braid will go and pin down – this gives the "crown braid" look.
          And, there you have it, an easy natural hairstyle for busy moms!
PS. This style is great for women with natural hair who have had postpartum hair shedding/loss (you can see in the picture below that I actually had quite a bit of postpartum hair shedding). I say it's great because you can braid your hair and leave it alone for a few days and to hide your sparse edges you can wear a loose headband on your edges or smooth them down to cover the "bald" areas.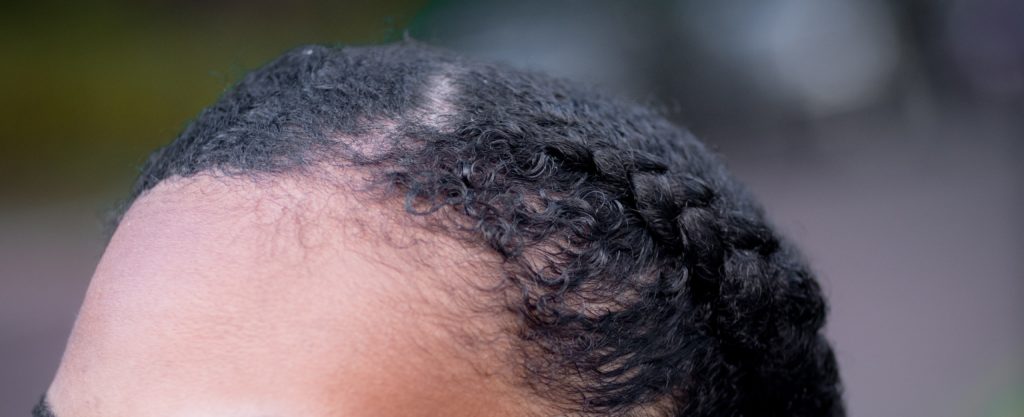 Editor in Chief
at
Naturally Blessed Hair
Living my life Naturally, Knowing I'm Blessed, and Loving my Hair is the phrase that pretty much sums me up. My name is Andrena and I'm a lover of all things natural hair - the styles, the maintenance, and the beauty. Check out
My Hair Journey Here. Stay in touch and keep up with me and my hair @NaturallyBlessedHair.