My Wash and Go Story (Journey/Growth) Ft. Eco Styler Gel
My story begins in the Fall of 2009.
Finding my first "Staple" 'Natural Hair' Style
In 2009, as a new natural in the "natural hair" community, one of the main hairstyles for short natural hair was the Wash and Go. Having watched many videos on YouTube on how to achieve the perfect wash and go and how to make your curls POP – I thought I'd give the Wash and Go (WnG) a try. It looked easy, but when I tried it, I realized that the wash and go hairstyle wasn't as easy as I thought it was. Thinking back, I didn't use the right products and I definitely wasn't using the right techniques. In the early stages of my natural hair journey, I had no experience styling curls, and frankly, after trying a few times, I gave up – concluding that wash and go's weren't for me.
My first failed attempts at wash and go's were done by smoothing activator gel into my hair – this technique did not work for me. With time, I learned that different techniques work for different hair types, so I decided to give the wash and go a second chance – this time by "raking" my curls with a new product. I started using Eco Styler gel and incorporating shingling (raking sections of hair with fingers) and realized that the style might work for me after all. I realized, that with practice, I was really good at achieving defined curls, so I pretty much did wash and go's every day in my first year of being natural – that's how the style became my "Staple" natural hairstyle. I achieved a lot of growth in my first year of being natural and I almost always wore wash and go's.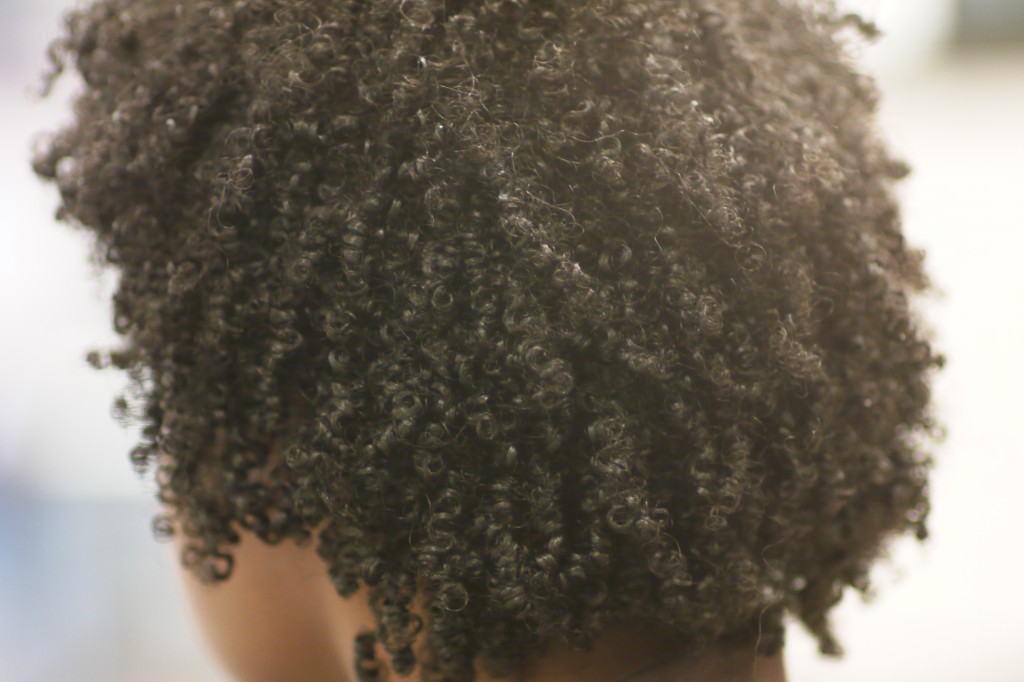 Venturing into Stretched 'Natural Hair' Styles
As my natural hair journey continued, I wore Wash and Go's often while occasionally incorporating other hair styles. As I learned more, I wore stretched styles in order to avoid single strand knots and tangling; I tried braid outs, twist outs, flat twist outs, and other stretched natural hairstyles. Stretched hairstyles were a time-saver for me – I realized that they worked for me just as much as wash and go's and I didn't have to wet my hair as often to maintain a style.
Also, as my hair grew longer, I realized that having defined wet curls was no longer worth washing my hair every other day and using a ton of product, especially when the style had to be re-done every two (2) days. Don't get me wrong, I still loved wash and go's and would wear them every once in a while, but I transitioned from only doing wash and go's to almost only wearing stretched styles.
At this point in my hair journey, I love all styles and alternate between wash and go's and stretched hair styles. Right now, my go-to hairstyles are french braids or a smooth Eco-styler ponytail.
Conclusion
The moral of the story is that the Wash and Go is a cute and sometimes easy hairstyle that works well on short to medium length hair – and even long hair if you have the time and patience to define your curls. I wore wash and go's consistently in the beginning of my natural hair journey and benefitted very much from the low manipulation styling. The style helped me to achieve length, learn about products, and saved me from many potential bad hair days. I think every natural should try the wash and go hairstyle at least once in their natural hair journey so they can view their curls from a different perspective – And the style should definitely be tried with Eco Styler Gel, my all time favorite gel for natural hair. Eco Styler gel can be used for twist outs/flat twist outs, to lay down edges, and of course, wash and go's.
Have you tried Eco Styler? The ones I've tried are the Olive Oil, Argan Oil, and Krystal. The Olive Oil is my favorite!

Oh, and the next Eco Styler variation I want to try is the new Black Castor and Flaxseed Oil gel. Try it with me!
What do you think about Eco Styler gel? Have you tried it, do you recommend it to new naturals? I love it and mostly recommend it to new naturals that have a small budget for hair products. Share your Eco Styler Gel experiences, good or bad, in the comment section below.
Thanks for reading! Please, if you haven't already, follow me on Instagram @naturallyblessedhair and Subscribe to my YouTube channel for more natural hair talk, tips, and encouragement. God Bless!

Editor in Chief
at
Naturally Blessed Hair
Living my life Naturally, Knowing I'm Blessed, and Loving my Hair is the phrase that pretty much sums me up. My name is Andrena and I'm a lover of all things natural hair - the styles, the maintenance, and the beauty. Check out
My Hair Journey Here. Stay in touch and keep up with me and my hair @NaturallyBlessedHair.