How To Go Natural -Transitioning
Transitioning to natural hair can seem difficult when you're just getting started, especially with the overwhelming amount of information about Curly and Kinky hair on the internet. The process of transitioning to natural hair is regularly cutting off chemically processed hair (ends) while allowing your natural hair to grow out (from the roots) over time. This process is continued until you've cut all of your chemically processed hair off and you are left with only your natural hair.
How To Transition to Natural Hair – Step by Step
Allow your chemically processed hair to grow out. Have at least a ½ inch of new growth before doing your first trim.
For your first cutting session, be sure to cut off more than you normally would for a regular trim. Do this for the cutting sessions to follow as well.

For Long-term Transitioners, continue these cutting sessions as your natural hair grows out until you're left with only your natural hair texture/color.
For Transitioners who don't want to wait until they're left with only natural hair, you can transition until a set time or until you no longer want to deal with your two textures.
Transitioning Tips:
Once you've decided to go natural, don't damage your natural hair while it grows out.
Avoid Damage – You can avoid damage by staying away from heat and other harsh hair chemicals or treatments. Instead of relying on straighteners, learn new ways to style your hair. Check out our Natural Hairy Styles page for ideas on what you can do to keep your hair healthy during your transition to natural.
Set realistic deadlines if needed – To avoid cutting your hair before you're ready, set a big chop date to hold yourself accountable – especially if you want to reach a certain length before doing the Big Chop.
Be prepared for Change. With the straight hair hanging on to the ends your curls may look one way but when all of the straight hair comes off, it may look different. Be prepared for change and accept the curls you have at every stage.
Be Gentle. Transitioning hair is very fragile and has weak points because of the two textures. Moisturize, often, deep condition, and do hot oil treatments to keep your hair healthy. Be gentle with your hair while combing and styling.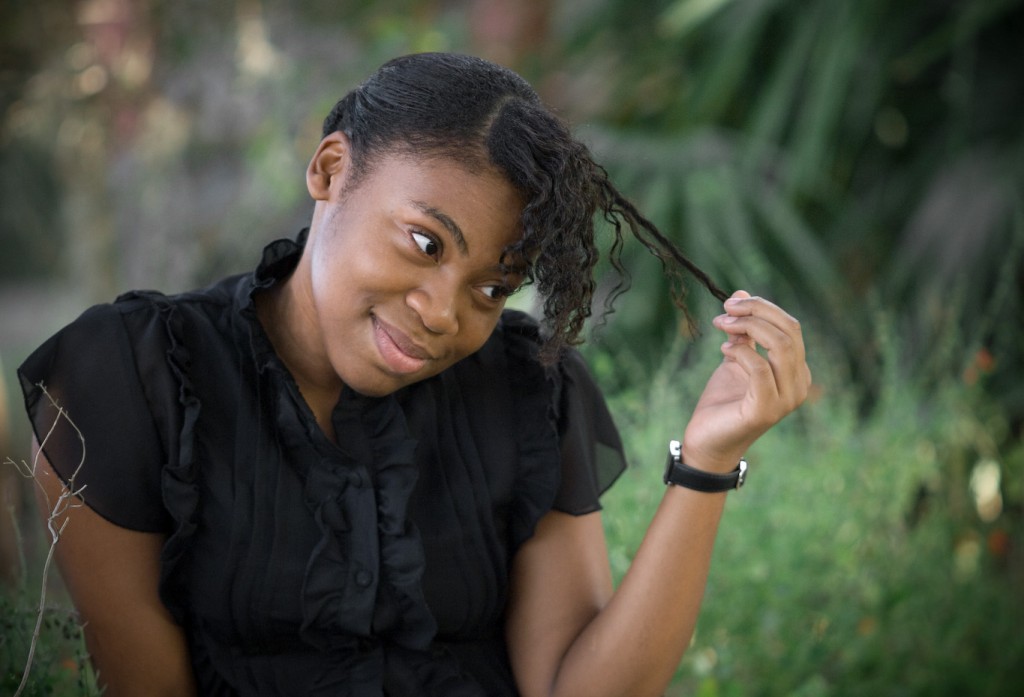 Transitioning to Natural Hair FAQ's (Frequently Asked Questions)
If you're still wondering what is means to go natural, check out our page, "Natural Hair 101?"
What is Transitioning?
Transitioning is the process or period of changing from one state or condition to another.
In terms of going natural, transitioning is the process or period of changing from chemically processed hair, usually relaxed (permed), to natural hair.
Should I Transition to Natural hair or do the Big Chop?
The decision to transition to natural hair versus doing the Big Chop can be a tough one that depends on many things: your personality, work environment, stage in your family life cycle, etc. Ultimately, the decision to transition to natural hair or do the Big Chop is up to you. Learn if transitioning to natural hair is a good choice for you by answering the following questions.
Is Transitioning to Natural Hair a Good Choice for Me?
Do you like gradual changes?
When transitioning to natural hair, one grows out their natural hair from the root while simultaneously cutting off relaxed ends. This greatly reduces the changes in personal appearance and allows the transitioner to go natural slowly but steadily.
Do you like having long hair?
Doing the big chop takes away most of a person's hair, typically leaving them with about 1/2" to 2 inches of hair. Transitioning allows you to keep your length while still progressing in your journey to natural.
Do you adapt to change easily?
If short hair is not something you're comfortable with or may be something that you cannot adapt to, transitioning may be better suited for you.
When should I start transitioning to Natural Hair? When to Transition to Natural Hair
Begin your transition to natural hair when you feel comfortable. Ideally, it best to begin any new lifestyle after you've done your research, shared your plans with your support system, and most importantly when you feel that you are mentally, emotionally, and even financially prepared.